Donaldson Kids + Cooper
Kids use Guilt, Bargaining, and even a PowerPoint Presentation to Convince Parents they Need a Dog
Petco Love
Every Gift Saves Lives
---
Donaldsons + Cooper
My story starts simply: our kids love dogs. Our sweet lab, Buck, had been gone several years when our kids began asking on an ever-increasing basis if we could get another dog. "I'll never ask for anything ever again," promised Alex. "Come and see this PowerPoint presentation we made ('Why We Need a Dog')" coaxed Suzanne. "I'm going to college in four years," pleaded Andrew. After discussing the possibilities, my husband and I decided we would get another dog.

" We wanted a rescue, and we would surprise the kids with an early Christmas gift."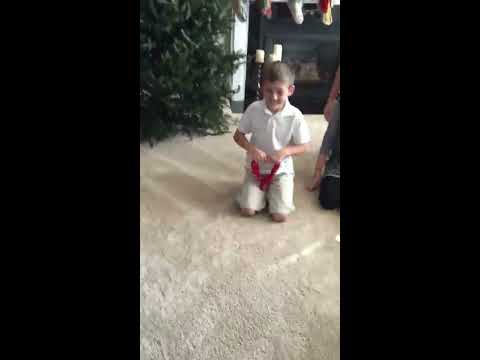 I contacted my dear friend Sabina, a volunteer at Hickory Hill K-9 Rescue, and asked if she might have any dogs in mind for our family. Her response was nearly instantaneous, "Fenway. You have to check out Fenway."
The day I went to visit him was cold, gray and wet. He wagged his tail furiously, jumped up on my arm and licked my face. I looked down at my muddy arm and then at him. "Are you the one?" I thought. His piercing caramel eyes and giant velvety ears gave me my answer. I wondered why this adorable young dog hadn't already been adopted. Linda, the amazing founder and owner of Hickory Hill, explained that another family had adopted him but returned heartbroken because he didn't get along with their pet rabbit. (Have I mentioned that he is part beagle?) Their loss was our gain. We wanted this sweet dog to be ours. With the decision made, Linda helped us through the adoption process and set up a time for us to pick up our new "baby."
Trotting into our family room with his giant red bow and speed-wagging tail, Fenway, now Cooper, was by far the best gift our children have ever received. Their reaction to his arrival was one of genuine surprise and sheer joy.
Cooper gets the first hello in the morning and the last hug at night. He makes our family happy every day. When we sit on the floor, he stretches his long, lean body with his beautiful brindle markings and curls up next to us. He nearly always lets out a contented sigh. I hope that he's thinking "This is where I belong. This is home."
As I type this and peek over at a sleeping Cooper, I know that there is not a remarkable piece to this story. It is not extraordinary, but it's our story. Our adoption story. Our LOVE story. I'm grateful the kids kept asking for him, I'm grateful he put his muddy little paws on my arm that dreary December day, and perhaps most of all, I'm grateful for that rabbit.
Each year, the Petco Love invites adopters to share the story of how their adopted pet changed their lives during the annual Holiday Wishes campaign, giving the organization that they adopted from a chance to receive a grant award. This story by Kristin Donaldson won Hickory Hill K-9 Rescue in Ashland, Virginia a 2016 Holiday Wishes award.